In 2015, the Ural Tire Plant purchased the technology for the production of marine shock absorbers and marine mooring fenders from JSC "Orenburg Plant of Technical Products". Thus, today Uralshina LLC produces those legendary tubeless Orenburg mooring fenders, which have no analogues in the entire territory of the Russian Federation. The production technology of the NVK fenders is patented, as is the very name of the NVK.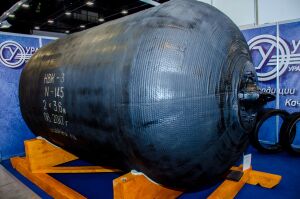 Assignment
Mooring fenders (Orenburg fender) are designed to absorb impacts of the ship's hull on mooring devices, or on the side of another vessel during mooring, towing, joint parking, and transshipment operations.
Thanks to the installation of mooring fenders, the impact force is distributed over the maximum possible area of the ship's hull, which eliminates the deformation of its side. The energy of the moving vessel is spent on the deformation of the fenders and the change in their internal pressure.
Applicable scope
Pneumatic mooring fenders manufactured by URALSHINA LLC are used on fishing, processing, transport and other vessels in open sea conditions. They can be operated at sea waves up to 7 points and ambient temperatures from -40°C to +60°C. During mooring operations, the fenders can be either suspended or afloat between the sides of mooring vessels.
Technical characteristics
Model, spec
Dimension, mm
Weight assembly without ballast, kg
Internal working pressure, kPa

Absorbed energy not less than, kJ

Perceived load at 50% compression, not less than,

kN

Open sea, wave disturbance, points

Ambient air temperature,

degrees

Average service life, years
NVK-3
TU 38105167-2001E
2000х3600
850
80-100
420
1100
7

from -40

to +45

7

NVK-7

TU 381051635-86

1600х4500
1000
100
450
1000
5

from -30

to +60

7

NVK-8

TU 381051265-89

1200х4500
760
70-80
200
500
6

from -40

to +40

5
Advantages of mooring cranes manufactured by URALSHINA LLC
ease of assembly
extended service life compared to samples from other manufacturers
reduced weight
possibility of transportation in the deflated state
resistance to deformation during exploitation
availability of repairs both sides of the fender
Pneumatic mooring fenders are products that fall under the import substitution program. The entire cycle of their production, from the preparation of the rubber compound to the assembly and packaging, is carried out on the territory of the Russian Federation. All materials and components of the Uralshina mooring fenders are also Russian-made.
Design of the mooring pneumatic fender:
fender shell is a frame in the form of a cylinder with spherical ends, consisting of alternating rubber and rubber-cord layers;
metal flanges located on spherical ends;
clamp band (steel becket) connecting the flanges inside the shell;
metal covers mounted on the flanges with bolts;
a nipple screwed into the lid, through which the fender is filled with air;
details for fixation the fender.